Victoria Falls SADC Special
Take a break and visit the largest waterfall in the world.

Victoria Falls SADC Special
Take a break and visit the largest waterfall in the world.
Africa
>
Zimbabwe
From:

NAD 3700

3 Days / 2 Nights

Package is no longer valid
The Victoria Falls is one of the Seven Natural Wonders of the World.
Allow us to arrange your 3, 4, or 6-day vacation to the Falls, which includes flights, transfers, accommodation, and activities.
Take advantage of Eurowings' promotional offer and save up to N$800 on their direct flights from Windhoek to Victoria Falls in Economy and Premium Economy class.
Presented here are land arrangement packages for 3 days / 2 nights, which can be extended according to your preferences.
Eurowings Flight schedule Windhoek - Victoria Falls - Windhoek
Windhoek - Victoria Falls Wed, Fri, Sun 09:15 11:15
Victoria Falls - Windhoek Wed, Fri, Sun 15:05 17:15

3 Days / 2 Nights land arrangement packages:
Victoria Falls Rainbow Hotel
Standard Double Room from N$3,160 per person sharing - land only
Centrally located in the resort town of Victoria Falls, the Victoria Falls Rainbow hotel is within walking distance of the town centre (0.5km), only 2km from the mighty Victoria Falls and very close to all the adventure activities in the resort town.

A'Zambezi River Lodge
Standard Room River facing Double Room from N$3,350 per person sharing - land only
The a'Zambezi River Lodge is a mere 5 kms from the rainforest at Victoria Falls and close to all the amenities that the small town centre offers, but it also has an unbeatable position right on the banks of the Zambezi River.

Bayete Guest Lodge, Nkosi or PheZulu
Deluxe Double Room from N$3,700 per person sharing
Bayete Guest Lodge is a family run lodge which offers 30 rooms set in a lush tropical garden. Central to the lodge is the large teardrop swimming pool, which is hugged by the Dining Boma and Bar. The Tavern is steeped in history and character and is central to the communal area where guests are welcomed to gather, have refreshments and socialise.

Pioneers Victoria Falls
Standard Double Room from N$4,950 per person sharing

"Pioneers" is the latest gem in the accommodation offerings available in Victoria Falls, Zimbabwe. A short 2.5 km from the magical Victoria Falls, and situated in a peaceful residential suburb, this lodge is in an ideal location. The nostalgic era of the pioneer explorers has been perfectly blended with modern amenities to meet all the requirements of today's traveller.
528 Victoria Falls Guesthouse
Garden view Double Room from N$6,300 per person sharing
528 is based in a quiet, leafy suburb, close to all restaurants & activities in Victoria Falls town (a mere 5-minute taxi ride at $4/ride). They have just 7 en-suite rooms, including 2 triple rooms for families or friends, while the rest are en-suite doubles.
Batonka Guest Lodge
Garden view Double Room from N$6,600 per person sharing
Set in lush gardens, a tranquil haven away from the bustle of town but within easy walking distance of the main attractions; this little lodge has become renowned for its exceptional service standards. The lodge offers 27 well-appointed rooms with elegant, contemporary style décor encompassing Victoria Falls' colonial past and African flavour.
Ilala Lodge
Standard Double Room from N$7,100 per person sharing
Ilala Lodge Hotel offers elegant accommodation. The ambiance of this family-run, luxury hotel celebrates a unique African history and the inviting décor of the stylish rooms provides the ultimate in modern comfort. The Victoria Falls National Park borders the front of the property and, as such, wild animals often graze on the hotel lawns. Warthogs, in particular, are common visitors and they are sure to delight and entertain you.
The River Palm Hotel
Garden view Double Room from N$8,350 per person sharing
The hotel's location could not be more idyllic, situated as it is along the banks of the iconic Zambezi River, among towering indigenous trees and only 4 kilometres from Africa's Natural World Wonder, Victoria Falls – so close, in fact, that on a clear, quiet day you can hear the thunder and see the spray of the mighty waterfall from your room.
Includes
2 nights on bed and breakfast basis
Return airport transfers
Excludes
Return airtickets to Victoria Falls
Visa if required
Meals not indicated
Expenses of personal nature
T's & C's apply. Rates are subject to the rate of exchange and can change without prior notice.
Bayete Guest Lodge, Victoria Falls, Zimbabwe
Victoria Falls Rainbow Hotel, Park Way, Victoria Falls, Zimbabwe
A'zambezi River Lodge, Victoria Falls, Zimbabwe
Pioneers Lodge, Mahogany Road, Victoria Falls, Zimbabwe
Ilala Lodge Hotel, Victoria Falls, Zimbabwe
Batonka Guest Lodge, Victoria Falls, Zimbabwe
528 I Victoria Falls, Reynard Road, Victoria Falls, Zimbabwe
Palm River Hotel, Reynard Road, Victoria Falls, Zimbabwe
Nkosi Guest Lodge, Victoria Falls, Zimbabwe
PheZulu Guest Lodge, Victoria Falls, Zimbabwe
A Zambezi River Lodge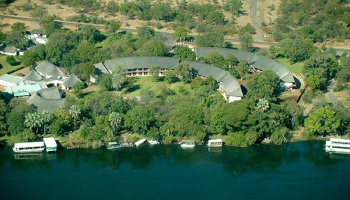 Bayete Guest Lodge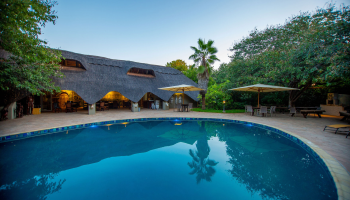 Pioneers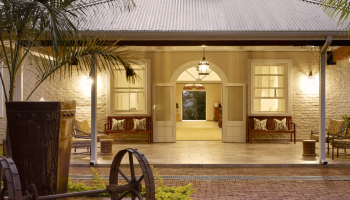 528 Victoria Falls Guesthouse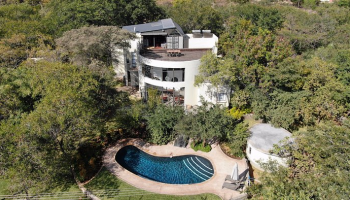 Batonka Lodge
Ilala Lodge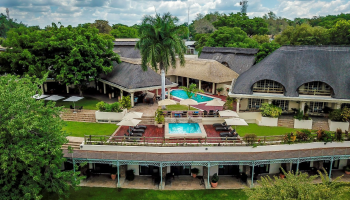 The River Palm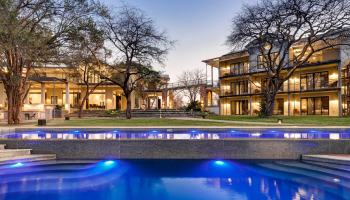 Similar Packages
You might also be interested in the packages below