Omaanda & Sonop - Zannier Hotels
Discovery Promotion

From:

NAD 3468
per person sharing
2 Days / 1 Nights

Sales Period:

21 Jul 21 to 31 Oct 21
Discovery Promotion - Zannier Hotels
Stay 21 July 2021 – 31 October 2021 (last departure)

OMAANDA
One Bedroom Hut
Dinner, bed and breakfast * - N$3,468 per person sharing
Fully inclusive** - N$5,080 per person sharing
SONOP
One Bedroom Hut
Fully inclusive** - N$6,004 per person sharing
Above rates are for SADC residents.
*Dinner, bed and breakfast
Rate inclusions: VAT, tourism levy, return airport transfers from/to Windhoek International Airport (these may be non-private), full board, all
beverages except premium spirits and Champagne, a non-private sunrise and sunset conservation drive
**AI - All inclusive
Rate inclusions: VAT, tourism levy, full board, all beverages excluding Champagne and premium spirits, a non-private morning and afternoon scenic drive, e-mountain bikes, 30-min horse riding, group yoga, outdoor cinema and an astronomy experience

Omaanda owes its name to its exceptional situation, lying right in the heart of a private animal reserve, the Zannier Reserve by N/a'an ku sê.
Overlooking the boundless Namibian plains, the camp is made up of some ten extremely luxurious round thatched huts whose design is inspired by traditional Owambo architecture. This ethnic majority group is known for its secular and sober know-how, inspired by and having a deep respect for the natural environment in which it lives.
This unique resort also features cosy bar, a spa with two double treatment rooms, a boutique and a heated infinity swimming pool overlooking the majestic savannah. The welcoming and authentically decorated restaurant is open all day long and offers a selection of sumptuous meals inspired by the best local produce.
Sonop is a luxurious tented camp nestled at the Southern extremity of the Namib desert, in the Karas region.
Designed as a refined British colonial experience from the 1920's, this out-of-the-ordinary lodge offers a perfect retreat in a stunning panoramic desert landscape. Constructed on top of boulders, the ten spacious tents aim to offer a unique journey through time. Richly furnished with antiques made of fine materials, colourful carpets and precious wood, they are an invitation to live the life of yesteryear's wealthy explorers. A sophistication that contrasts with the simplicity of the endless surroundings.
At Sonop everything is orientated towards the desert's richness: all views are awe-inspiring and a large list of adventures allow guests to admire the desert's genuine beauty at leisure. Every evening guests are invited to enjoy an opulent gastronomic experience, where silverware and candelabras set the mood, enhanced by black-tie and white gloves service. Flawless service and attention to detail characterise all facilities of the camp.
T'c & C's apply
Omaanda Impressions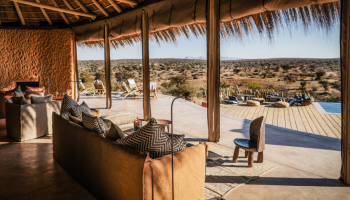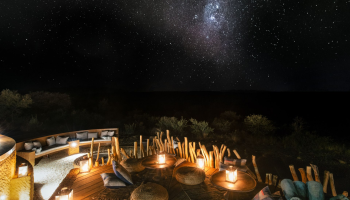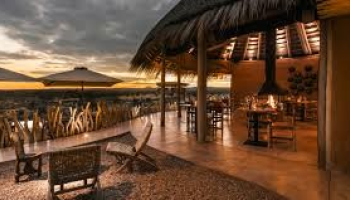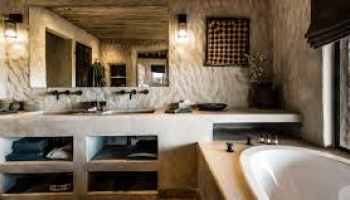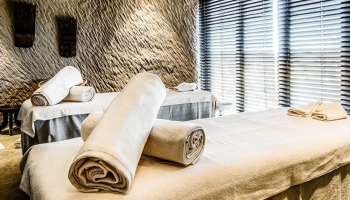 Sonop Impressions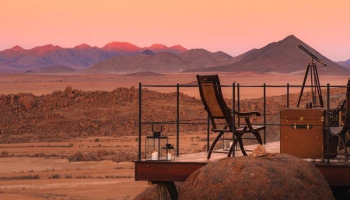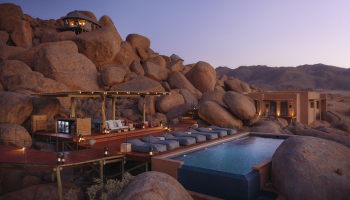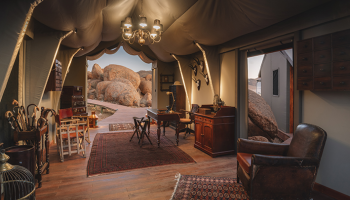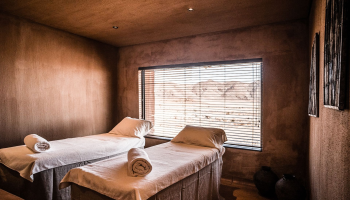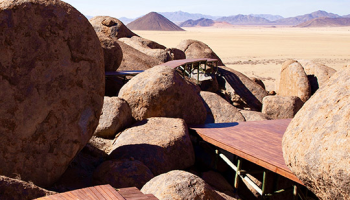 Zannier Hotels Omaanda
Zannier Hotels Sonop
Similar Packages
You might also be interested in the packeges below