N-E-S-W Specials 1
Long Weekend 21-25 May 2020

From:

2 Days / 1 Nights

Package is no longer valid
North - East - South - West SPECIALS
for the long weekend 21 May - 25 May and beyond
for Namibian's & Permanent Residents
Grootberg Lodge - North West
Validity 21 May until 31 December 2020

Double room N$1,150 pp sharing

Including daily dinner, bed and breakfast
Perched on the rim of the Etendeka Plateau, the Grootberg Lodge stands sentinel over the Klip River Valley. 12 000 hectares have been set aside by the #Khoadi//Hoas community for conservation and tourism and it is through this pristine wilderness that you meander either on foot or by car to encounter the inhabitants of this remote biosphere.
Your hosts at Grootberg Lodge are members of the #Khoadi/Hoas conservancy in which the lodge is located. Enjoy a sundowner on the deck or a swim in the pool
Auas Safari Lodge - East of Windhoek
Validity 22 May until 31 December 2020

Double room N$499 pp sharing - excluding service fee

Including daily continental breakfast, lodge facilities. Use of hiking & cycling tracks.
Less than an hour's drive from Windhoek lies a piece of paradise in the shade of the Auas Mountains. Fourteen well-appointed luxury rooms with en-suite bathrooms and private terraces offer respite after a long flight or a hard week's work. Early evenings are spent sipping drinks on the veranda as the sun sets over the African savannah. The abundant bird and animal species provide endless opportunities for capturing striking photographs. Sunbathing by the pool is perfect for relaxation. 

Arebbusch Travel Lodge, Windhoek - Central
Arebbusch Square Luxury Room

Single Occupancy  N$1,500

Double Occupancy - Including Breakfast - N$938 pp sharing 
Standard room
Single Occupancy - Including Breakfast - N$1,085
Double Occupancy - Including Breakfast - N$680 pp sharing 
Self-Catering Chalets
Small Chalet - Single Occupancy - Including Breakfast - N$1,085
Small Chalet - Double Occupancy - Including Breakfast - N$680 pp sharing 
Small Chalet - Triple Occupancy - Including Breakfast - N$1,635
Large Chalet - Sleeps 4 people - Excluding Breakfast - N$930 pp sharing 
Including Breakfast 

Arebbusch Travel Lodge offers high-quality accommodation at affordable rates in a natural setting in Windhoek – a gateway to the many wonders of Namibia's beautiful wide-open spaces, its fascinating variety of cultures, nature, wildlife and majestic sunsets.

Nest Hotel, Lüderitz -  South 
Valid until 31 October 2021

Comfort Double - N$1,269 pp sharing 

Comfort Single - N$1,584 per room
Deluxe Double - N$1,665 pp sharing 
Deluxe Single - N$2,142 per room 
Including daily breakfast
Lüderitz Nest Hotel is located directly on the rocks and sea with its own private tidal beach and walk-on jetty – unique in Namibia!

Things to do in Lüderitz:

Lüderitz Waterfront and Harbour, Kolmanskop Ghost Town, Halifax Island, Lüderitz Peninsula, Dias Cross at Dias Point, historic Lüderitz with its German art nouveau architecture, Bogenfels and Pomona Ghost Town or simply lie back and relax at the hotel – the choice is entirely yours…

Fly to Lüderitz: Air Namibia is flying to and from Lüderitz on Wednesday, Friday and Sunday. 
Bay View Hotel Dolphin Beach - West
Valid till end of May 2020

Double room N$645 pp sharing
Single room N$950 
Including daily breakfast
Built facing the beautiful Atlantic ocean, with the dunes at your back and located in the heart of all the attractions the coast has to offer. Bay View Resort is a modern, elegant resort overlooking the sea, perfect for a romantic, charming vacation, or a family getaway.

T's & C's apply
Grootberg Lodge, C40, Palmwag, Namibia
Arebbusch Travel Lodge, Windhoek
Auas Safari Lodge, Auas Mountains
NEST HOTEL
Bay View Resort Namibia, Langstrand
Grootberg Lodge
Arebbusch Travel Lodge
Nest Hotel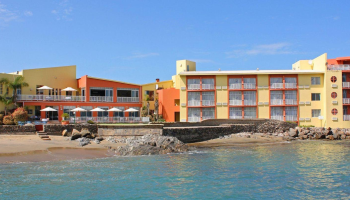 Bay View Resort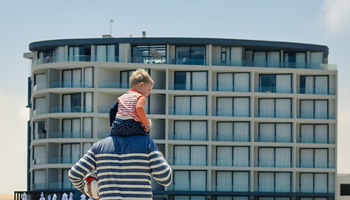 Similar Packages
You might also be interested in the packeges below