Gondwana collection
Discover true Namibia

From:



Sales Period:

16 Aug 22 to 31 Jul 23
Discover true Namibia.
Experience its magnificent landscapes and heart-warming culture with those who know it best, people who are passionate about conserving the land and bringing its captivating stories to life. With comfortable properties located at all of Namibia's intriguing places of interest, the Gondwana Collection offers unique accommodation experiences. Different in theme but equal in sincere warmth of service, each promises an exciting and authentic Namibian experience that will turn every moment into a golden memory.
SADC Gondwana card holders can book their Gondwana services as well as apply for your Gondwana SADC card for special rates through us.
Etosha National Park (Andersson Gate)
Etosha Safari Lodge
Etosha Safari Camp and Camping
Etosha Safari Camping2Go
Etosha National Park (King Nehale Gate)
Okavango
Hakusembe River Lodge and Camping
Zambezi/ Caprivi
Namushasha River Lodge and Camping
Namushasha River Camping2Go
Namushasha Villa
Zambezi Mubala Camp and Camping
Zambezi Mubala Lodge
Chobe River Camp and Camping
Windhoek
Kalahari Desert
Kalahari Anib Lodge and Camping
Kalahari Anib Camping2Go
Kalahari Farmhouse
Kalahari Farmhouse Camping
Fish River Canyon
Canyon Lodge
Canyon Under Canvas Sleep-Out
Canyon Village
Canyon Roadhouse and Camping
Canyon Klipspringer Camps
Aus/ Wild Horses
Klein-Aus Vista: Desert Horse Inn and Camping
Klein-Aus Vista: Geisterschlucht
Klein-Aus Vista: Eagles Nest
Namib/ Sossusvlei Area
Namib Desert Lodge and Camping
Namib Desert Camping2Go
Namib Dune Star Camp
The Desert Grace
Desert Whisper
Swakopmund
Damaraland
Palmwag Lodge and Camp and Camping
Palmwag Camping2Go
Palmwag Under Canvas Sleeping-Out
Damara Mopane Lodge
Kaokoland
Omarunga Epupa-Falls Camp and Camping
T&C apply
Gondwana Map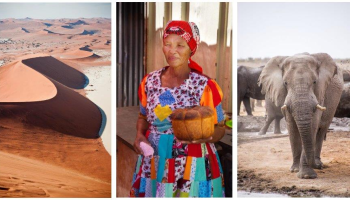 Similar Packages
You might also be interested in the packages below