Etendeka Mountain Camp & Lodges Walking Trails
Gain insights in the life of the desert-adapted giraffe

From:

NAD 2990
per person sharing
3 Days / 2 Nights

Sales Period:

14 Aug 20 to 16 Aug 20
Gain exclusive insights into the life of the desert-adapted giraffe during a two-night stay at Etendeka Mountain Camp hosted by Giraffe Conservation Foundation.
An amazing 2 NIGHT PACKAGE
DEAL OF ONLY NAD 2990.00 PER PERSON.
Stay for additional nights at NAD 995.00 per person per night.
This includes all meals,accommodation in the camp, and activities focused around the desert-adapted giraffe.
*Strict Covid-19 protocol is respected.
DID YOU KNOW that giraffe are introuble? Have you ever wondered, how giraffe
survive in the desert?
Make use of this once in a lifetime opportunity to be personally hosted by the Giraffe Conservation Foundation at the unique
Etendeka Mountain Camp and stick your neck out for giraffe.
The Giraffe Conservation Foundation (GCF) is the only NGO in the world that
concentrates solely on the conservation and management of giraffe in the wild throughout
Africa. Co-founder and Co-Director Dr Julian Fennessy is the world's foremost expert in
giraffe conservation. From their home base in Windhoek, GCF currently works with partners
and supports giraffe conservation programmes in 15 African countries.
Itinerary
The exciting itinerary starts 16h00 with a guided scenic drive from Palmwag Lodge to Etendeka Mountain Camp,
followed by a sun downer where you will meet the GCF team. A wholesome dinner around a family table set up will allow for
opportunities to continue conversations.
The new moon will offer perfect conditions for magnificent star gazing.
Next morning, build your strength with a hearty breakfast before venturing on a gentle guided hike through the
conservancy with an experienced naturalist and the world's expert on giraffe conservation. After lunch and a well-deserved siesta, afternoon snacks will be accompanied by an engaging presentation on all things giraffe with ample opportunity to ask questions and engage in conversations.
This is a unique opportunity to learn more about giraffe and the inspiring work of GCF throughout Africa.
Finish the day with a stunning scenic drive through the
amazing Etendeka Mountains which leads into a sun downer and more delectable dinner treats.
On the departure day, enjoy your relaxed breakfast and a guided scenic drive back to Palmwag Lodge, to arrive between 11h00 and 12h00.
T's & C's apply
Etendeka Mountain Camp & Lodges Walking Trails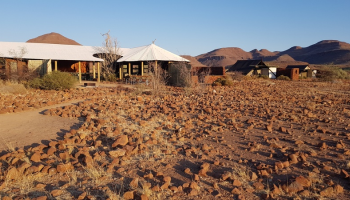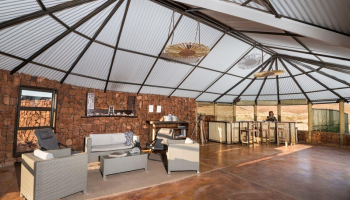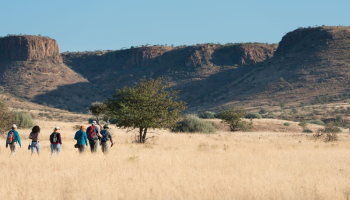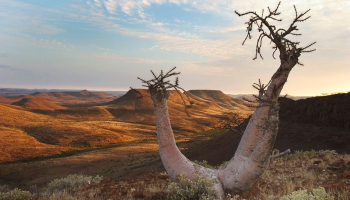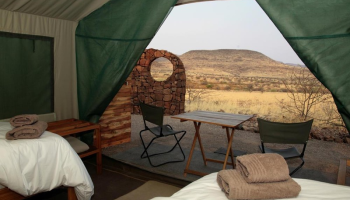 Similar Packages
You might also be interested in the packeges below