Welcome Eurowings Discover
The new leisure airline
Welcome Eurowings Discover
The new leisure airline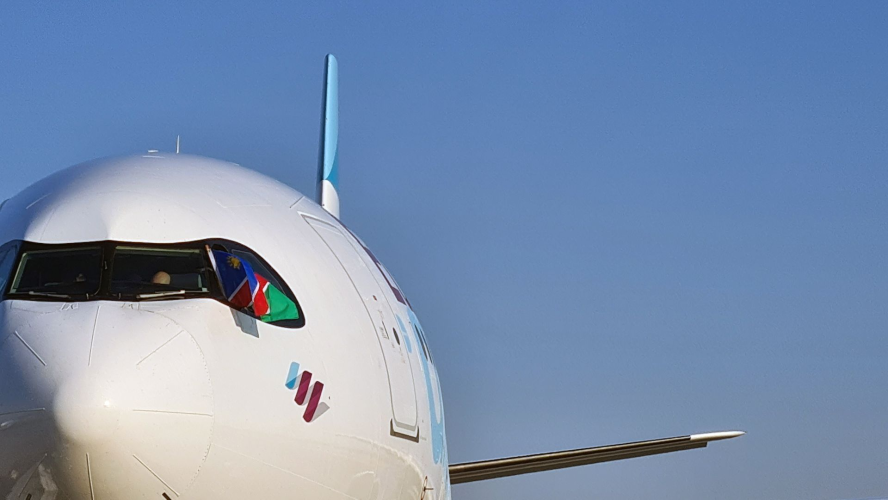 We are welcoming Eurowings Discover to Namibia
The new leisure airline Eurowings Discover landed at Hosea Kutako International Airport on 11 August 2021 at 08h:05. Eurowings Discover operates five flights per week from Frankfurt to Windhoek in 2021 and is currently the only European airline offering direct flights to Namibia.
In March 2022 the airline will increase its services to daily flights with three weekly onward flights to Victoria Falls.
Eurowings Discover offers a high-quality product with many services included. The aircraft has a total of 270 seats, 22 of which are in Business Class (lie-flat seats), similar to the Lufthansa Business Class seats. All Eurowings Discover aircraft will gradually become equipped with up to 31 Premium Economy Class seats within the next few months.
In all three classes, guests can look forward to a special, high-quality travel experience with all meals and non-alcoholic beverages included in the fare.
In Business Class, all beverages will be offered free of charge, while in the Premium Economy Class there will also be a complimentary selection of beer and wine. There is also a variety of Buy-on-Board offers, which travelers in Economy Class and Premium Economy Class can select from additional snacks and beverages.
Next to the culinary experience, Eurowings Discover also provides excellent entertainment on board the flight to your vacation - completely free of charge in all classes. With their own screens, travelers can choose from over 50 movies, 80 TV programs, and numerous soundtracks.
Another special feature onboard Eurowings Discover that will be implemented gradually: guests can quickly and easily connect to the Onboard-Cloud via their own device to receive an extended entertainment offer with a wide selection of magazines and over 50 cutting-edge games, gaming streams as well as an integrated gaming platform.

---
Subscribe to our Travel Newsletter
Get latest travel deals and offers directly to your inbox