SAGES GOLF Fundraiser 2020
supports for 13 charity organisations in Namibia
SAGES GOLF Fundraiser 2020
supports for 13 charity organisations in Namibia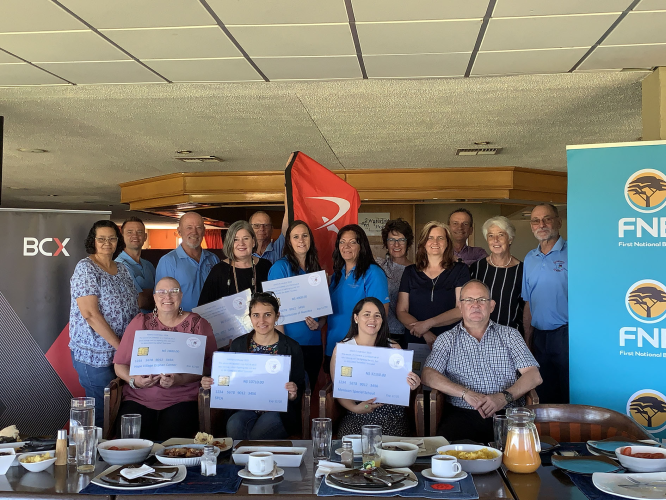 This year marked the 6th annual playing of the SAGES fundraiser.
Sages, comprising of over fifty years of age golfers, annually collect funds for charities.
The SAGES Windhoek branch hosts an annual fundraiser whereby players are invited to a 2-day team event comprising of 2 players. The format is a betterball scramble drive. Players indicate on the entry forms which charities they like to support. The event was held early in October with forty-two teams participating.
Players pay an entry fee and compete for lucrative prizes supported by generous sponsors, from individuals', companies, and participants. The Title Sponsorship from BCX, Rennies Travel Namibia as well as major contributions from FNB Namibia and Gondwana are the foundation of hosting such an event.
A raffle is also held which raises additional funds and Mustek from South Africa supported this initiative.
On Wednesday the 2nd of December, the beneficiaries were invited to a breakfast at the Windhoek Golf & Country Club where the proceeds were handed over. Not all beneficiaries could be present as they reside in other towns.
The beneficiaries were the Cancer Association of Namibia, SPCA, Hope Village, ISAP, Old Age Homes, SINASRA, Môreson Special School, Huis Palms (Walvis Bay), Hentiesbay Frail Care Centre, Tears of Hope(Swakopmund), Multiple Sclerosis Namibia, Maroelapark Old Age Home and Okanti Foundation.
All present beneficiaries shared their story of challenges and hope and were enlightened by the financial support and already had plans to put the funds to good use.
SAGES members also get involved in some of the projects such as enhancements at Old Age Homes and this makes a difference in the lives of those in need.
Since the inception of the Fundraiser, Sages Windhoek Branch has raised over N$ 700,000 and distributed them to various charities.
About SAGES
Sages Senior Golfers, the short form of the name being Sages, is a golfing society for senior golfers. Members of golf clubs who have reached the age of 50 are eligible to join their nearest branch. Branches arrange tournaments at different golf clubs within its area one or more times per month. Sages enjoy the opportunity of fellowship with other senior golfers, and the opportunity to play with Sages at different courses all over the country.

---
Subscribe to our Travel Newsletter
Get latest travel deals and offers directly to your inbox